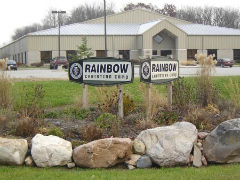 Welcome to Rainbow Christian Camp & Conference Center
Rainbow is a global ministry that provides creative ways for individuals to grow and develop into world changers by creating communities of Grace where God is in Charge. In these communities we look to Scriptures to guide us (Bible Based), Christ to lead us (Christ Centered), and world Missions to be our focus (Mission Minded).
Rainbow is a Ministry of Reconciliation (2 Corinthians 5:18-21). We are reconciling people to God, people to people, and organizations to God. We are transforming the kingdoms of this world into the Kingdom of God, where His will is done on earth as it is in Heaven.
Our focus for the last 64 years has been youth from Kindergarten through High School. We have activities and programs for all ages. Come and experience life with us.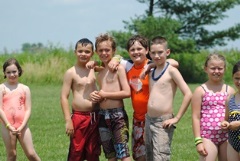 News & Announcements
December 2014

Larry Lipps

As I look out the Conference Center windows, the leaves have long left their spots on the trees. The grounds are quiet. The surrounding fields are bare. The most common question goes something like "Must be pretty quiet up at camp this time of year?" Well, yes and no. We were blessed to have at least one guest group almost every weekend from Labor Day through Thanksgiving. In fact, many of those weekends had two guest groups using our facility. We have scheduled three Holiday Dinners for various groups. Plans have been underway for the 2015 Summer Camping Season. The weekends for January through May have begun to fill up. So, yes, the grounds are very quiet this time of year, but the year round staff stays busy with the hosting of and cleaning between our groups and the planning for 2015. We would like to take this opportunity to wish each of you a Merry Christmas and a Happy New Year. Thank you so much for your prayers and support. The year ahead has some big changes in store (we will announce them at a later time), so we covet your prayers as we together walk into this next chapter that God has for us. Thank you all!

Christmas Dinners

Larry Lipps

Rainbow Christian Camp is pleased to once again offer your group, club, or organization the opportunity to have your Christmas get together here at the camp. We offer a delicious dinner in our inviting atmosphere. The best part is we do all the work and you get to enjoy the time with your friends or co-workers. Dates available are from December 1st through the 20th. Please call the camp for more information and availability.

2014 Annual Meeting

The 2014 RCC Annual Meeting is coming up and YOU are invited! The meeting is scheduled for Monday evening, October 20th. The evening begins at 6:30 pm with dinner. The meeting will immediately follow. Please call the camp at (765) 395-3638 to make your reservation. We would love to see you then.

By the Numbers

Larry Lipps

We know you are out there. You folks who love the numbers. So here are some numbers from Summer, 2014. The total number of campers was 1100. The total offering for our summer missionary (and you know who that was!) was $11,210. 35 different camps were held throughout the summer months (not including our Mephibosheth camps). Over 600 folks gave of their time to be faculty for those many camps. Finally, even though we do not officially count the number of decisions for Christ, we know many began their life-long journey with Jesus because of the experiences they had while here.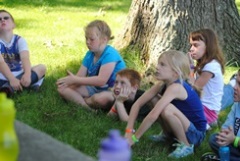 Upcoming Events