2015 Spring Break (Date Change)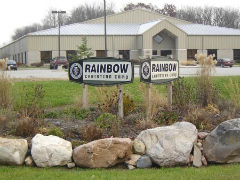 Welcome to Rainbow Christian Camp & Conference Center
We are Rainbow Christian Camp… soon to be The Ark Christian Ministries. Yes, the name change is happening. We have been talking about this for a year now and are finally moving ahead.
Because of confusion with two names (Pearson's Mill Christian Assembly dba Rainbow Christian Camp) and because of confusion in our current culture about what the Rainbow stands for and because of confusion that we are much more than a summer camp….. we are moving ahead with a name change. Notice that not much else changes here. We are still true to our core values of being Bible Based, Christ Centered, and Mission Minded. However, what the public knows us by will be THE ARK CHRISTIAN MINISTRIES.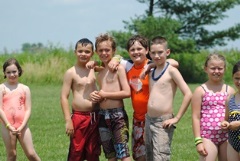 News & Announcements
2015 Summer Camp Registration is OPEN!

Larry Lipps

Let us help you get through this cold weather we are currently "blessed" with by announcing that registration for Summer Camp 2015 is up and running! Yes, it is time to take a look at the summer camping schedule, your personal schedule, and sign up for camp. You can click on PROGRAMS, and then YOUTH PROGRAMS, and finally "Summer Camp 2015 The Promise." You will be led to the schedule and individual camp descriptions. Then when you are ready, you can hit the green "Register Now" button. If you have any questions, please feel free to contact the offices at the camp. We will be happy to help.

December 2014

Larry Lipps

As I look out the Conference Center windows, the leaves have long left their spots on the trees. The grounds are quiet. The surrounding fields are bare. The most common question goes something like "Must be pretty quiet up at camp this time of year?" Well, yes and no. We were blessed to have at least one guest group almost every weekend from Labor Day through Thanksgiving. In fact, many of those weekends had two guest groups using our facility. We have scheduled three Holiday Dinners for various groups. Plans have been underway for the 2015 Summer Camping Season. The weekends for January through May have begun to fill up. So, yes, the grounds are very quiet this time of year, but the year round staff stays busy with the hosting of and cleaning between our groups and the planning for 2015. We would like to take this opportunity to wish each of you a Merry Christmas and a Happy New Year. Thank you so much for your prayers and support. The year ahead has some big changes in store (we will announce them at a later time), so we covet your prayers as we together walk into this next chapter that God has for us. Thank you all!

Christmas Dinners

Larry Lipps

Rainbow Christian Camp is pleased to once again offer your group, club, or organization the opportunity to have your Christmas get together here at the camp. We offer a delicious dinner in our inviting atmosphere. The best part is we do all the work and you get to enjoy the time with your friends or co-workers. Dates available are from December 1st through the 20th. Please call the camp for more information and availability.

2014 Annual Meeting

Posted by Larry Lipps

The 2014 RCC Annual Meeting is coming up and YOU are invited! The meeting is scheduled for Monday evening, October 20th. The evening begins at 6:30 pm with dinner. The meeting will immediately follow. Please call the camp at (765) 395-3638 to make your reservation. We would love to see you then.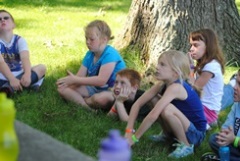 Upcoming Events